Welcome to Deborah Bauer Wilcox's Blog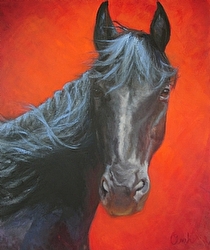 So Much More than Black to painting a Black Horse
"Elvis" is a commissioned work and created on a fine grain linen canvas. Originally I was going to paint Elvis with a turqoise background but once I met the handsome guy I knew that he was all heart and fire! So that is how the background color choice was made. Painting a black horse presents it's own chanllenges and I found that grey-violet was the only color that worked for me in the lights. The body has deep violet, mohogany tones as well as dark Ultramarines. Elvis is a fancy moving warm blooded Hanovarian and lives up to his namesake. He captured me as I was trying to capture him! I am not sure who won!

If you are interested in having your equine friend captured on canvas please contact me for details. I usually like to meet and take my own photographs but if logistics makes that impossible I work very successfully from your photos as well. Distance isn't a deterent!

My Oil painting classes are on going and if you are in the vicinity and interested contact me for details.

Comment on or Share this Article
---